How Casement Windows Different from Double Hung Windows – Window Replacement DC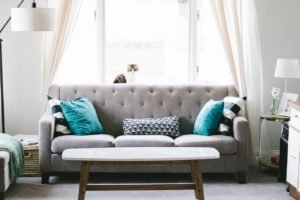 You may have been wondering which window style between casement and double hung would be best for your home. However, before you order your next window installation Washington, DC service company, it is important that you understand what each style is and the differences between the two, as well as their respective merits. 
Casement windows open and close through the use of cranks, allowing you to open them with just one hand. You push them open to the outside and you can use them just about anywhere where you need an easy way to open a window, especially if you need to do some reaching to manage it. A good example of this is the wall just above the kitchen sink. Having a casement window on such a wall makes things easier since all you have to do is lean over the basin of the sink and push the window open. By comparison, pushing open a double hung window in such a scenario would be more difficult. 
Speaking of double hung windows, they are opened by sliding them up and down a frame. They consist of two sashes, one or both of which may be operable. Double hung windows, just like casement windows, can be used for pretty much any purpose. 
What are the Merits of Casement Windows for Window Replacement?
Casement windows for Window Replacements have one key benefit and that is that they have a unique look. Many people like this style because of how simple and modern it looks. The window has a clean and continuous face, instead of the division that is present in double hung windows. They are excellent for contemporary architectural styles. 
When it comes to insulation, it's hard to beat the tight seal on casement windows. All four sides will fit tightly into the frame when the window is closed, stopping air from leaking in or out of the room. The tight seal helps to maintain home temperatures and reducing energy utility costs. 
Casement windows are also easy to operate, requiring less dexterity than double hung windows. If there are going to be elderly people in the house, casement windows will be easier for them to operate. 
What are the Merits of Double Hung Windows?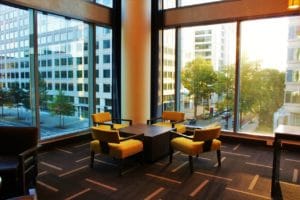 Double hung windows are pretty flexible and will look good in just about any room or architectural style. They do, however, look best in historical architectural styles. They are also a great place to fit air conditioners. You can't do the same with casement windows.
Double hung windows also require less maintenance and last longer than casement windows. If the crank used to open a casement window fails it needs to be repaired or the window is rendered inoperable. Double hung windows, on the other hand, don't have as many moving parts and so are less prone to mechanical failure. 
Head-to-Head
Both windows are great on aesthetics since the style you prefer is a matter of personal preference. You might even decide to combine both styles for your home.

Both

windows

are easy to clean.

Casement windows

just need to be open for both the exterior and interior to be cleaned. Double hung

windows

just need to be tilted in. It should be noted, however, that older

double hung

windows

are more difficult to clean.
Double hung

windows

fare better when it comes to durability.

Casement windows

are more exposed to the elements when they are open, while

double hung

windows

aren't. Double hung

windows

therefore last longer. 

Casement windows

win out when it comes to the seal, since they have an airtight seal. Double hung

windows

have a tendency to let air in through the top. 
As you can see, neither style is objectively better than the other. They both have unique merits and demerits. The one you choose depends on your individual preferences and what you're trying to achieve with your home. Whichever you choose, make sure it at least makes the occupants comfortable and matches the architectural style of your home. 
Window Replacement DC
514 Kenyon Street NW,
Washington, DC 20010
202-540-0999